How does search function in page turning book work?
Q: When I designed my page turning book, I found search function is available in my Flash flip book, but had no idea how the Search function works, could you please tell me?
A: By practice, when we are reading a document, we might need to find out some words or titles within the document, which is time-consuming if we do it by manual. Therefore Page Turning Maker software provide a search function in page turning book to auto search the content for users. With this function, users can easily find out the content they need in the book.
To enable and apply the search function is easy, and you can follow the steps as below. First of all, only the documents contain text content supports search function.
How to enable search function:
Step 1 : Run Page Turning Maker software and enable search when importing file.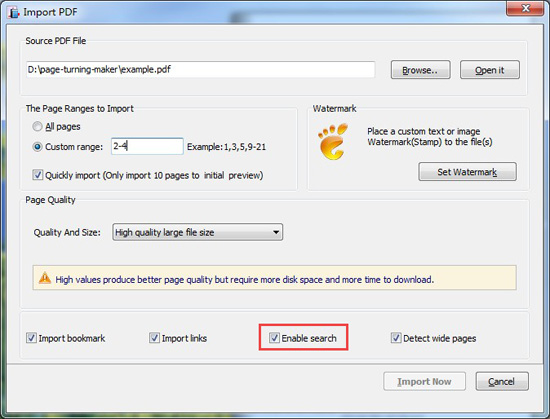 Step 2 : Check Show for Search Button option in Design Setting box. Then convert file to page turning book after finishing designing.
How to apply search function:
In opened Flash page turn book, click Search button to open search box, then type in the words you are looking for and confirming search. Immediately the information you need will be listed in the search box and the words you search will be marked in the book.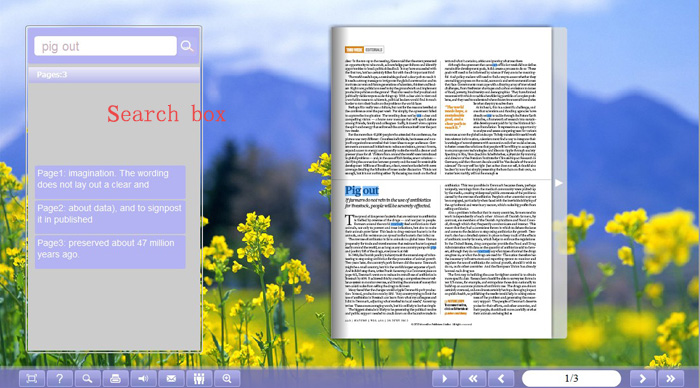 To have a free try on Page Turning Maker software:
>>Page Turning Professional for PDF Mac
>>Page Turning Professional for PDF