How to delete flip pages with Page Turning Pro for PDF
Q : When I was designing a page turning magazine with Page Turning Pro for PDF, I found a flip page that I didn't appreciate. Can I just remove or cover it?
A: Page Turning Pro for PDF is a professional page turning book creation software, which contains a very rich set of flip book design features. It not only supports design the function and appearance of the flipbook, also allows the user to edit the content of book, such as adding multimedia content and delete unwanted pages. The delete pages in page turning book when designing is very simple, now let us get started with the following steps.
Step 1, run Page Turning Pro for PDF and design your page turning book;
Step 2, choose 'Edit Pages' to initiate Flip Page Editor;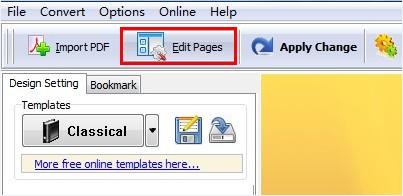 Step 3, in Page Editor select the page that you don't want and click 'Delete' button to remove it from flipbook.
Click to download Page Turning Pro for PDF, or try more Page Turning Maker software: