How to import links in original file to page turning book
Q : Hi, I have some Office and PDF documents which contain links in them, now I want to convert them to Flash page flip book, and keep the links within them. Please tell me how can I do.
A: Actually now most of popular document formats allow users to insert links when editing, and sometimes to insert links is an effective promotion for company or personal sites. If you want to convert your documents like Office, PDF, chm and so on to Flash page turning books with original links preserved, Page Turning Maker software will not let you down.
Page Turning Maker provides rich powerful application to help convert a variety of documents to page flip books, meanwhile you can select to keep the links in original files or not. It is easy to import the links, and you can just follow the steps below. (Of course you have to choose the right Page Turning software firstly)
Step 1 : Run Page Turning Maker software(e.g Page Turning Pro for PDF).
Step 2 : In the wizard screen, you can either select "Create New" to create a page turning book project, or select "Demo" to enter the edit window directly.
Step 3 : Open Import PDF dialog to select targeted PDF file for conversion.
Step 4 : In Import dialog, check Import links then click Import Now to confirm importing.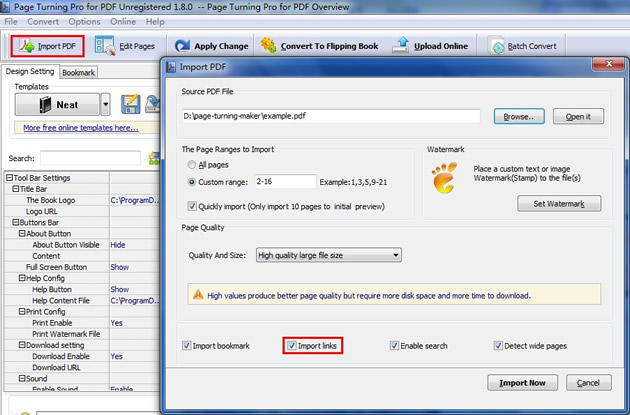 To have a free try on Page Turning Maker software:
>>Page Turning Professional for PDF Mac
>>Page Turning Professional for Office